the frankfurt book fair has ended on sunday. One week full of books, analog or digital, authors, readers, writers, illustrators, editors, publishers, …
…and I was there, and I took a few photographs.
there are rooms and sections filled with people. Here I needed a pause.
ars-edition presents the christmas collection 2011. I  love it.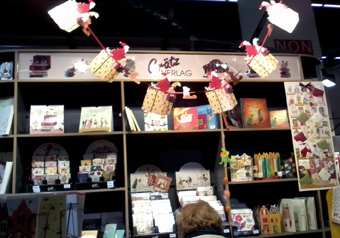 and here is trhe new program from grätz-Verlag. I love greeting-cards and paper-products
and here something for the little kids and babys. Haba